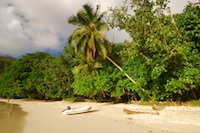 Book cheap flights to Seychelles by selecting an airport destination in Seychelles below. Compare flights to Seychelles from over a hundred airlines worldwide and book online with us today.
The Republic of Seychelles is the smallest African country in terms of population, with just over 86,000 residents. This island nation spans a cluster of 115 islands situated in the Indian Ocean, around 1,500 km from the coast of Africa. Its capital city of Victoria is on the island of Mahe, the main island of the group, and is home to Seychelles International Airport.
One of the main reasons people visit the Seychelles is to enjoy the beautiful beaches, and with over 100 islands, there are a lot of them to enjoy! The magical ribbons of exquisite white sand that wrap around each of the islands are truly a sight to behold. With such a vast array of islands to choose from, people may find it difficult deciding which island to visit. However, such a headache is unwarranted. Any of the islands are well worth a visit, whether you choose one of the three largest islands, Mahe, Praslin, or La Digue, or any of the smaller outlying islands.
Fans of more active pursuits than sunbathing will not be disappointed with a visit to the Seychelles. With mountainous terrain that begs to be explored, and an abundance of water sports, there is plenty to pack into your break. The Seychelles has also gained itself a great reputation for spotting wildlife, especially birds and giant tortoises.