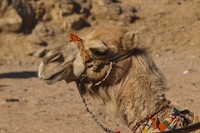 Book cheap flights to Sudan by selecting an airport destination in Sudan below. Compare flights to Sudan from over a hundred airlines worldwide and book online with us today.
Sudan is situated in north-eastern Africa and is the third largest country on the continent. Khartoum is the capital of Sudan and is located near the centre of the country. Khartoum is also home to the largest and busiest airport in Sudan, Khartoum International Airport. Many visitors to Sudan will be based in Khartoum where there is much to see and do.
Some attractions of Khartoum include the largest museum in Sudan, the National Museum of Sudan, which was founded in 1971 and contains works from many periods of Sudanese history. Amongst the most popular exhibits of the museum are two Egyptian Temples that were moved to Khartoum after the flooding of Lake Nasser. One of the largest markets in Khartoum is the Souk Al Arabi that spreads over many blocks in the centre of the city. The market is split into a number of themed sections, including one focused purely on gold. A recent addition to Khartoum's attractions is Sudan's first large scale shopping mall. For those interested in less hustle and bustle, there is also a small botanical garden situated in Khartoum.
Despite being one of the largest countries in Africa, Sudan remains one of the least explored by tourists. This has meant that unlike some of the tourist traps in nearby countries such as Egypt, Sudan's beauty spots can be enjoyed in relative peace. The pyramids and ancient sites may not be as impressive or well known as those in other countries, but the sense of accomplishment at discovering such a find is amplified when achieved without scores of coach parties surrounding you.