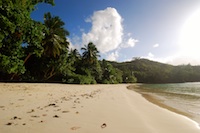 Book cheap flights to Senegal by selecting an airport destination in Senegal below. Compare flights to Senegal from over a hundred airlines worldwide and book online with us today.
Senegal is located in Western Africa with its capital city, Dakar, on the westernmost tip of the country. The country is named after the Senegal River, which forms the country's border to the east and north. The origin of the river's name is disputed, but a widely believed local theory in Senegal is that it stems from a Wolof phrase meaning "our canoe." Senegal has embraced this interpretation and phrases such as "we're all in the same canoe" are prevalent.
Senegal has a massively contrasting terrain. From vast arid deserts in the north to lush tropical forests in the south, Senegal has something to appeal to any traveller. The capital city, Dakar, epitomises everything that is special about Senegal, with beautiful beaches, elegance, and hustle and bustle rolled into one. The city rocks with a relentless rhythm, punctuated by vibrant markets and fabulous nightlife. However, escape from the busy city is not that far away. Less than a three hour drive from Dakar, Saint-Louis, the first French settlement in Western Africa, offers the calming atmosphere of a quiet, old town.
Many people flock to Senegal is for its beaches and it is not difficult to see why. Glorious white sand is everywhere and invites sun seekers to relax and swim in the sea. Dakar has a mix of busy resort areas, where a bite to eat or a refreshing cocktail are never far away. Yet when you need a change of pace, there are also its sleepy fishing villages, where people can easily escape the crowds.