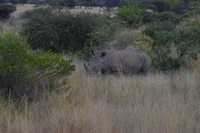 Book cheap flights to Swaziland by selecting an airport destination in Swaziland below. Compare flights to Swaziland from over a hundred airlines worldwide and book online with us today.
One of Africa's smallest countries, as well as one of the few remaining monarchies on the continent, Swaziland is a friendly, easy-going nation that cries out to be visited. Situated in the south of the African continent, landlocked Swaziland has been continuously inhabited since prehistoric times. Its capital city, Lolamba, is the home of the country's seat of government and is close to the international airport in Matsapha . International flights only serve neighbouring South Africa from this airport and is due to be replaced in 2011 with the new Sikhupe International Airport.
Visitors to Swaziland can expect a warm welcome from a country that is remarkably at ease with its status and size. Any tension felt in neighbouring South Africa will melt away as soon as visitors cross the border into Swaziland, thawed by the easy-going nature of the people.
From royal ceremonies to wildlife reserves and majestic scenery, Swaziland packs an awful lot into its tiny space. Fans of wildlife should flock to Hlane Royal National Park, home to a wide array of animals, including white rhinos, lions, and antelopes. The more adventurous visitor is even able to camp in the national park, sharing a magnificent view of the sunset with all kinds of animals. In the eastern area of the country, the skyline is dominated by the majestic Lebombo Mountains, an 800km mountain range that runs through South Africa, Swaziland, and Mozambique.