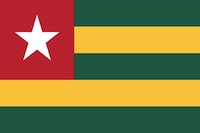 Book cheap flights to Togo by selecting an airport destination in Togo below. Compare flights to Togo from over a hundred airlines worldwide and book online with us today.
The country of Togo is based in West Africa and is located between Ghana on the west and Benin on the east.
The capital city of Togo is Lomé, with Sokodé, Kara, Kpalimé and Atakpamé being among the largest cities in Togo.
Togo is a small country but has a population of more than 6,600,000 people. Places of interest to visit in Togo include Lome, Atakpame, Kpalime, Kara, and Dapaong. Lome-Tokoin Airport is the largest airport in Togo. Lome is the largest city in Togo and one of the most beautiful cities where it was once claimed to be the "Paris" of West Africa playing host to many nightclubs and restaurants including The Galion, La Belle epoque, Marox Grill and Alt Munchen. Voodoo is also practiced across the lake in Togoville, which is a fishing village. Kpalime has forests where ruined chateaus, butterflies and mountain villages are hidden, it is also the gateway to the coffee and cocoa triangle.
Kara is another city based in Togo where buses run daily between Lome and Kara. Nadoba is about two hours north of Kara where villagers have built unique houses out of clay and straw that serve as home to farm animals and various materials. Also in Kara is a wildlife resort with animals that are almost extinct in Togo, the resort is called Parc Sarakawa.
Major industries in Togo include agriculture, cement, food processing, mining and textiles.