Lome Cheapest Fares
To search and book flights to Lome in 2020 and 2021, please enter your requirements and click the search button above.
Lome, White Beaches and Black Coffee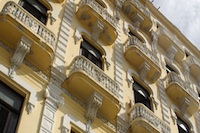 Lome is the capital city of Togo, which is located on the Gulf of Guinea. The city was founded in the 18th century and now is an important producer of coffee, cocoa and palm kernels. Along the salty and sandy coastline is a thriving market gardening industry, along with a well-integrated mix of upmarket villas and more modest housing. The city has an equatorial climate with two rainy seasons, one lasting from April to July and the other from September to November. Lome is constantly warm, rather than hot, thanks to the breeze coming from the nearby sea, which acts as a natural form of air conditioning.
Popular destinations in the city include Lome Grand Market, where there is a range of food on sale, including red peppers, dried fish, green lemons, traditional medicine and other trinkets, all housed within a three-storey hall. Other major attractions are the Togo National Museum, the Cathedral of the Sacred Heart; built in the Gothic architectural style and a voodoo market, the Akodessewa market. The beaches of Lome are also, of course, not to be missed. To the north of the city is the Rally of the Togolese People House, which features the Togo National Museum. Within the museum are exhibitions featuring jewellery, musical instruments, weaponry, dolls and pottery showcasing the culture and tradition of Lome and Togo. Lome is a traditional African city, in that it combines a wide variety of styles, traditions and influences. This is an exceptionally colourful destination, thanks to its grand boulevards and bright colonial houses.