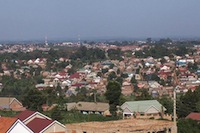 Book cheap flights to Uganda by selecting an airport destination in Uganda below. Compare flights to Uganda from over a hundred airlines worldwide and book online with us today.
Uganda is a country situated in Eastern Africa and is bordered by many countries including Sudan, Rwanda and the Democratic republic of Congo. Uganda was nicknamed the 'Pearl of Africa' by the late Winston Churchill.
The capital city of Uganda is Kampala and is not over-populated yet, and is a very safe place to take walks, even at night.
Ugandans are well known for being very friendly, with their kindness and their approachability being some of their best traits.
Some of the main cities to visit in Uganda include Entebbe, the large city which is also host to the countries airport as well as being the location of the United Nations vehicle depot. Jinja, which is home to the world famous River Nile. Also situated to the north-west is Arua, where there is a famous game reserve, the Ajai. Fort Portal, which can be found in western Uganda, is full of lakes as well as enchanting forest and grasslands.
The main attractions of Uganda are its many national parks, game reserves, and beautiful islands that form part of Lake Victoria.
Uganda's main airport is Entebbe Airport, as the name suggests it is situated in the city of Entebbe. Here you will find connection flights as well as flights to other major cities in Africa.
Uganda's primary industries are agriculture and mining, due to the country having an abundance of natural minerals and ores, and fertile agricultural soil.