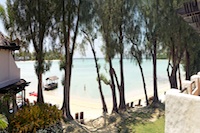 Book cheap flights to Cook Islands by selecting an airport destination in Cook Islands below. Compare flights to Cook Islands from over a hundred airlines worldwide and book online with us today.
The Cook Islands is a self-governing democracy that exists in a state of free association with New Zealand. The Cook Islands are a series of 15 small islands in the South Pacific Ocean and have an area of approximately 93 square miles. This area is covered by the Cook Islands Exclusive Economic Zone to help ensure economic consistency, and is an area that covers almost 700,000 square miles and is mostly made up of ocean.
The main population centre, Rarotonga has a population just under 15,000 people but is host to an international airport. It is believed that many Cook Islanders live in New Zealand, perhaps four times the amount that live on the actual Cook Islands. Tourism is the main industry and it is estimated that as many as 90,000 people travel to the islands annually, although fruit exports, pearls, marine exports and offshore banking are also part of the Cook economy.
New Zealand has responsibility for the defence and foreign affairs within the Cook Islands although Cook maintains its own political system with which New Zealand must consult. Natives of the Cook Island have New Zealand citizen status although they also have status as Cook Island nationals. Spoken languages include English and 'Cook Islands Maori' and a great deal of the population are of ethnic Maori descent.