Rarotonga Cheapest Fares
To search and book flights to Rarotonga in 2020 and 2021, please enter your requirements and click the search button above.
Cultural Festival thrills visitors in Rarotonga.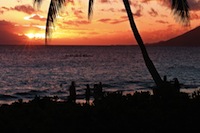 As the most populous of the Cook Islands, and home to the islands Parliament Buildings as well as the international airport, Rarotonga has become a very popular tourist destination. Due to its status as a hub of sorts for the Cook Islands, Rarotonga is home to many events and festivals throughout the year. The largest and most important of these festivals is the Te Maeva Nui Festival.
Observed over two weeks at the end of July and the beginning of August, this festival is a celebration of the independence of the Cook Islands from New Zealand, which was declared in 1965. During the festival, many competitions, displays, and parades can be witnessed throughout Rarotonga. The festival was once known as the Constitution Celebrations but in 2001, it was decided the festival should be replaced with a Maori name. This new name, Te Maeva Nui means "the greatest or the most important celebration".
A parade through the town of Avarua is the focal point for the first day of the festivities and the National Auditorium in Rarotonga is the centre for activities during the festival, with many of the events taking place there. Local artists wearing traditional costumes perform songs, dances, and drumming displays. Elsewhere activities include a Maori food festival, cultural exhibitions, and sporting competitions.
Many tourists flock to this stunning destination during the festival, as it is the perfect way to experience the true culture of the Cook Islands. Locals and visitors alike are swept up in the joy and excitement of the celebrations as the festival progresses.