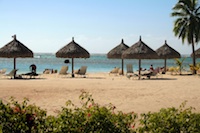 Book cheap flights to Fiji by selecting an airport destination in Fiji below. Compare flights to Fiji from over a hundred airlines worldwide and book online with us today.
Fiji is located in the Melanesian area of the Pacific Ocean, and consists of a very large group of islands. It is roughly one-third of the way between New Zealand and the Hawaiian islands. All of the islands fall within a single time zone.
Nadi International Airport is where most international flights arrive. The capital also has an airport that handles some international flights.
Suva is the capital city, and is located on the southeastern part of the island of Viti Levu. Nadi, where the main airport is located, is also on this island.
Fiji has several interesting attractions that appeal to visitors of all backgrounds. The Fiji Museum is located inside of Suva's botanical gardens and has several fascinating historical and cultural exhibits. While you're here, you may wish to visit the Municipal Handicraft Centre. There, you may buy crafts made by locals. Another beautiful, popular attraction is the Garden of the Sleeping Giant, located in Nadi. It has a lily pond, as well as 20 hectares of native plants and flowers. The city is also home to the largest Hindu temple in the Pacific region. This temple is exceptionally colourful. This city also has two of the most popular beaches in the country. The Newtown Beach is only 10 minutes away from the city centre. Wailoaloa Beach is full of several restaurants and resorts. It's very large, stretching out over a distance of half a mile.
The country has a diverse economy that includes logging, fishing and mining. Tourism also plays a major role in the economic health of the nation.