Nadi Cheapest Fares
To search and book flights to Nadi in 2020 and 2021, please enter your requirements and click the search button above.
Join in with One of Fiji's Best Festivals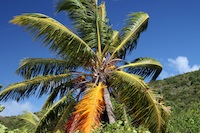 Nadi (pronounced Nan-dee) is on the western coast of Viti Levu in Fiji and is home to the main International Airport, making it the gateway destination to Fiji's islands for many of its visitors which are reached by ferry from the city's harbour.
The Fijians are a very softly spoken people and even raising your voice is considered extremely rude, but despite their apparent reserve, they have a love of celebration and there are numerous different festivals going on throughout the year. Being a country where faith is very important, many of these are religious in nature, but there are a number of more secular City festivals which are also well worth attending for their vibrant atmosphere and opportunity to meet the locals.
One of the year's highlights is the Bula festival which is held in Nadi in the middle of July every year. This is a unique event which marries the gentleness of the people with a celebration of the beauty of their tropical paradise. The main event is the parade with marching bands dressed in smart white linen, troupes of dancers, floats decorated with masses of tropical greenery, fire dancers and traditionally dressed singers. The festival lasts a number of weeks and in addition to the parade, there is a Pacific dancing contest, a Bollywood night and a range of other events all leading up to the highlight of the destination's celebrations, the crowning of Miss Bula.