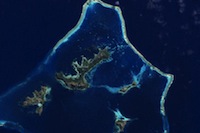 Book cheap flights to French Polynesia by selecting an airport destination in French Polynesia below. Compare flights to French Polynesia from over a hundred airlines worldwide and book online with us today.
The stunningly beautiful islands and reefs of French Polynesia make it a perfect destination for relaxation and leisure in the warm, turquoise waters of the Pacific ocean. With miles of powdery soft beaches, lagoons filled with tropical fish and fascinating archipelagos, there is something for everyone in this tropical paradise.
Fly into Faa'a international airport on the main island of Tahiti where you can get reasonably priced connecting flights to the other islands or take some time to explore the lively capital of Papeete with bustling shops, friendly cafes, and vibrant nightlife. Take in some culture at the Musee Gauguin, wander through the botanical gardens, or do some underwater viewing in the Lagoonarium.
Head out of town to hike through the beautiful mountains with picturesque waterfalls or take a journey down to the southern coast to watch professional surfers on the famous Teahupoo breaks and real water babies can surf, dive or snorkel among the reefs in the clear blue seas teeming with tropical fish. There are plenty of ferries, water taxis, and cruises to choose from, giving many opportunities to explore the different islands or even do a spot of whale watching.
Tourism makes up a major part of the economy in French Polynesia so there are wonderful hotels to suit every traveller, from luxurious resorts surrounded by water to romantic beach huts. French Polynesia is also one of the few countries with a thriving pearl industry so make an excursion out to the Tuamotu islands to see the anglers and do not forget to pick up a mother of pearl souvenir or some luxurious black pearl jewellery.