Papeete Cheapest Fares
To search and book flights to Papeete in 2020 and 2021, please enter your requirements and click the search button above.
The Year's Biggest Swell Crashes in at Teahupoo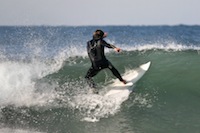 Billabong Adventure Teams arrived in Papeete en route to destination Teahupoo, the site of the annual Pro Tahiti Surf Championship on Tahiti's south east coast, to ride this year's monster waves as part of a bid to discover the world's biggest and heaviest rides.
Teahupoo (pronounced Chopoo) has a fearsome reputation for some of the heaviest waves in the world, one of the reasons that it has become part of the Association of Surfing Professionals World Tour surfing circuit. Thanks to its position in relation to the Pacific Ocean, Teahupoo experiences huge, heavy, glassy waves of up to ten feet or higher, which produce a formidable barrel capable of breaking even the most experienced pro surfers.
Surfing is generally good here all year round, but waves are bigger and most consistent between March and October. Southerly swells of any size can also come in during the period from November to February when epic glassy conditions may prevail. Teahupoo has seven surf breaks in a five-mile stretch, all breaking in differing swells and winds.
First surfed by bodyboarders Mike Stewart and Ben Severson in 1986, Teahupoo remained a secret spot until the 1998 Gotcha Tahiti Pro championships, when it became a destination for extreme surfers. Laird Hamilton, seen in the film Riding Giants, was credited with surfing the heaviest wave ever here in 2000, a year marked by the tragic death of a local surfer, which cast a dark shadow over the event.
Keala Kennelly broke the women's record for riding the biggest tow in wave here in 2005.