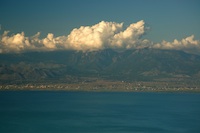 Book cheap flights to Albania by selecting an airport destination in Albania below. Compare flights to Albania from over a hundred airlines worldwide and book online with us today.
Friendly and fascinating, Albania can be found in the southeastern part of Europe. It lies just south of Greece and north of Kosovo and Montenegro. It borders the Ionian Sea and the Adriatic Sea.
The country is varied in its landscape, offering a little bit of everything. Albania has magnificent mountains, quaint villages, an amazing coastline, and plenty of history to entertain those who visit. Enjoy a hike in the Tomorri Massif or Albanian Alps or rent bicycles and explore the open ancient roads of the Gramoz Mountains from Permeti or Korca.
The towns of Byllis and Butrint are bursting with ancient castles and archaeological finds, while Gijrokastra and Berati are home to Ottoman fortresses and many museums. The towns of Korca, Berati, and the country's capital city of Tirana are exploding with medieval churches containing magnificent frescoes and random icon collections of the country's past.
When visiting Albania, tourists who fly in will most likely enter through the country's main international airport, which is The Mother Teresa International Airport in Tirana. The airport is only 15 minutes from the city centre. This airport operates from countries around the world including Europe, Asia, and the USA.
Throughout the country, Albania's major industries are food processing, textiles, and clothing, as well as lumber and basic metals. This means shopping for authentic souvenirs should include copper plates, rugs, and felt items. Albania is also known for its excellent local wine.