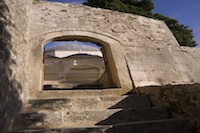 Book cheap flights to Bosnia And Herzegovina by selecting an airport destination in Bosnia And Herzegovina below. Compare flights to Bosnia And Herzegovina from over a hundred airlines worldwide and book online with us today.
Formed following the break up of Yugoslavia, Bosnia and Herzegovina is located in southeastern Europe and borders the Adriatic Sea and Croatia. With hot summers and cooler winters, the country's climate is generally pleasant and mild, but can vary, depending on location. Areas of high elevation tend to have shorter summers and longer, colder winters, while coastal areas have much shorter winters. Bosnia and Herzegovina's capital city is Sarajevo, which is located east of the centre of the country. The main airport is situated at Sarajevo and serves many flights throughout Europe and the Middle East. Sarajevo International airport is located in the suburb of Butmir.
Bosnia and Herzigovina has a thriving tourist industry and more visitors are flocking to the country every year. With the service industry employing almost half of the country's workforce, tourists are enjoying a high level of customer care. There are also many tourist attractions to entice visitors to the country, which is famous for its spectacular landmarks. Sarajevo's Old Town is a popular destination and for those who enjoy visiting seaside resorts, Neum is another favourite. Other places of interest include Sutjeska National Park, which is the location of one of Europe's last remaining primeval forests; Jahornina Mountain, home to Olympic standard downhill skiing and Kravica Waterfalls, located to the west of the country.
Other major industries in Bosnia and Herzegovina are steel and coal mining. The majority of both products are exported to neighbouring countries in Europe.