Sarajevo Cheapest Fares
The lowest fare found to Sarajevo (SJJ) was £209 with Croatia Airlines. The fares shown here are the lowest flight prices to Sarajevo obtained in actual searches by Just The Flight customers. To search and book flights to Sarajevo in 2022, please enter your requirements and click the search button above.
Sarajevo: A Melting Pot of Cultures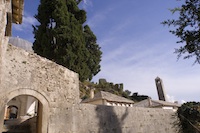 Sarajevo, capital city of Bosnia and Hezegovnia is a popular destination and warmly opens it's doors and its heart to visitors and tourists with a great variety of attractions. A good way to find your feet on a first visit is by means of a guided tour on foot. See famous city centre landmarks, the Latin bridge, Makale Market Place and the colourful Old Town.
Located in the Old Town is an Eastern-style market featuring narrow alleyways with all the atmosphere and bustling activity of a North African souk and is a great place for arts, crafts and jewellery items and for unusual gift ideas. Remember to haggle though and bag yourself a bargain!
Sarajevo's unique history makes it a perfect melting-pot for the major world religions with Christianity, Islam and Judaism all fully represented here.
Above the city sits the Yellow Fort, Zuta Tabija offering spectacular views across Sarajevo and the Miljacka River.
To understand a little of Sarajevo's colourful history, the city proudly offers many museums; some of which include the Tunnel of Hope (War Museum), the National Museum, the Jewish Museum, the Museum of Contemporary Art and so many more.
Traditional food here is similar to Middle Eastern cuisine, meats being marinated in mild herbs and spices and served with sauce. Cevapi (kebab) and Grah (bean stew, which can be served with or without meat) are popular Sarajevo dishes. Western dishes such as burgers and pizza are also readily available.