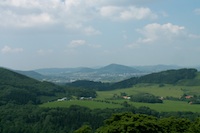 Book cheap flights to Czech Republic by selecting an airport destination in Czech Republic below. Compare flights to Czech Republic from over a hundred airlines worldwide and book online with us today.
The Czech Republic is a state that is part of a new and increasingly modern Eastern Europe. The country is located south-west of Poland, west of Slovakia, north of Austria and has Germany on its western borders. It is a member of NATO and joined the EU in 2004, and doing so has seen trade and economic stability increase for the Czech Republic. The country has seen a great deal of modernisation and economic growth although this was stalled when it became one of the prominent victims of the global financial crisis. Since then, it has fought its way back to a position of stable growth.
The capital of the Czech Republic is Prague and its largest airport is the Prague Ruzyně International Airport, which is located approximately six miles from the capital, to the west. It has been operating for over 70 years and caters for over ten million annual passengers. The Czech Republic is landlocked so has no beaches, although many visitors are attracted to its landmarks and historical features – and the fact that accommodation is relatively cheap and foreign currency often converts well. Attractions in Prague include Alfons Mucha Museum, Bedrich Smetana Museum, the Bethlehem Chapel, the Dvorák Museum, and the Estates Theatre. All of these illustrate a rich and varied history that is turning Prague into a strong tourist attraction.