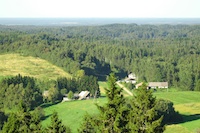 Book cheap flights to Estonia by selecting an airport destination in Estonia below. Compare flights to Estonia from over a hundred airlines worldwide and book online with us today.
Estonia, known officially as the 'Republic of Estonia' is a state located within the Baltic region of Northern Europe. It shares borders with the Gulf of Finland, and the Baltic sea to its west. It is found to the north of Latvia, to west of the Russian Federation. It is located over from Sweden, across the Baltic sea. It covers over 17,000 square miles and the official language is Estonian, which is closely related to Finnish. The people are ethnic Finnish.
Estonia is a democratic republic and its capital city its capital is Tallinn. It has a population of about 1.3 million, making it one of the least populous members of the European Union, Eurozone and NATO. Estonia's economy is strong and it has the highest per capita GDP of any former soviet country, and is listed as having a 'very high' Human Development Index, a measure of how well its people live. The two largest airports in Estonia are Ulemiste Airport in Tallinn and Parnu Airport in Parnu – both of which are international airports that serve many destinations throughout Europe. Tourist attractions in Estonia include the historical centre of Tallinn, Tutu's lake region, the baths of Parnu , the National Park of Lahemaa and the island of Saaremaa. Tallinn's Old Town has been judged as a UNESCO World Heritage site due to being a well-preserved mediaeval town centre.