Tallinn Cheapest Fares
The lowest fare found to Tallinn (TLL) was £110 with EasyJet. The fares shown here are the lowest flight prices to Tallinn obtained in actual searches by Just The Flight customers. To search and book flights to Tallinn in 2022 and 2023, please enter your requirements and click the search button above.
Tallinn Flower Festival, Estonia's exotic flair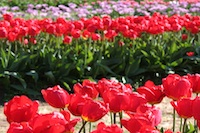 Tallinn's annual Flower Festival has become one of Estonia's most popular spring and summer attractions. It gives domestic and international landscapers and botanists the opportunity to display their gardening talents in one of the most beautiful cities in the Baltic region.
The festival is about much more than tulips, roses, petunias and other flowers. Visitors exploring the Estonian capital's most impressive historic sites can also enjoy the flowerbeds located around the Tornide Väljak, Tallinn's medieval Square of Towers, which forms part of the old city's fortifications.
When the city of Tallinn established the annual floral festival, in 2009, it attracted more than 400,000 visitors and organisers expect this number to increase exponentially as Estonia's economy improves and more international tourists spend their holidays in this historic Baltic destination.
Each year, the festival is based around a handful of themes. Horticulturalists are invited to choose one and then go away and design a garden to suit. Two of the most popular themes of Tallinn's Flower Festival are re-creations of rustic, coastal village gardens and gardens based around national and folk traditions from around the world.
During the festival, which takes place each year from May to August, visitors are invited to choose and rate their favourite gardens, with organisers distributing prizes to the best and most popular horticulturalists and landscapers at the end of the summer.
The festival is particularly popular among budget-conscious visitors to this Baltic destination, as all events, displays and activities are entirely free of charge.