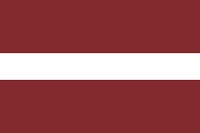 Book cheap flights to Latvia by selecting an airport destination in Latvia below. Compare flights to Latvia from over a hundred airlines worldwide and book online with us today.
Latvia is a country in Northern Europe and is part of the Baltic region, bordering with Estonia, Russia, Lithuania, and Belarus. Its capital city is Riga, which lies in central Latvia, right next to the Gulf of Riga.
Riga is also home to the nation's main airport, Riga International Airport, which has flights to over 30 countries and is the Baltic's biggest airport. Other major airports in Latvia are the Liepaja and Ventspils International Airports, which are both located on the west side of Latvia, just inland from the Baltic Sea. There are also ports and harbours at these three cities.
Riga really is the hub of Latvian culture and is also the main tourist hotspot. As a World Heritage site, the city offers many architectural and natural pleasures, as well as the prospect of long, hot days by the beaches. Just west of Riga is the resort town of Jurmala, which contains one of the longest beaches in Europe with fantastic views of the forests and coastline. You can also indulge in one of Latvia's specialties - spa treatments, with several world-renowned centres based in Latvia.
Latvia's industrial strengths mainly lie in the processing and electronics sectors. Food and wood processing are key areas for Latvia thanks to its strong agricultural base and large area of forests. Transport is also an important sector, with the ports in the main cities used to import and export crude oil and other oil products.