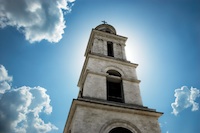 Book cheap flights to Moldova by selecting an airport destination in Moldova below. Compare flights to Moldova from over a hundred airlines worldwide and book online with us today.
Moldova is a landlocked country, sitting between Romania and Ukraine, in the far reaches of Eastern Europe. With a population of just over 3.5 million, its citizens are renowned for their warm, welcoming hospitality and overwhelming eagerness to make you feel at home.
After you land in Chişinău International Airport, the first you see of Moldova is likely to be its capital city, Chişinău (pronounced kish-i-now in Moldovan or kish-i nyov in Russian), situated in the heart of the country. In stark contrast to the humble pleasures that most of Moldova has to offer, this vibrant and strikingly wealthy city seems worlds apart from the rest of the country. With a refreshingly Slavic attitude to living life for the moment, and letting one's hair down, you'll be sure to enjoy the attractions this funky city has to offer. In the daytime, you might find yourself wandering around some of Chişinău's elegant boutiques, dining in some of its fancy restaurants, or simply taking in the eccentric, colourful atmosphere. If you are a fan of nightlife, you might want to stick around – Chişinău never sleeps!
Whilst Chişinău is a great base, due to its location in the centre of this small, gracious nation, don't miss the opportunity to explore the wider attractions of Moldova, including emerald forests, rambling pastures, stunning landscapes, and ancient monasteries. Also, be sure to take advantage of the fact that this charming country has a thriving wine industry. Explore some of its vast, rambling vineyards, and historic, traditional wineries, and of course, taste some of the delectable wines that are being produced before your very eyes.