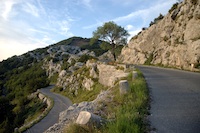 Book cheap flights to Montenegro by selecting an airport destination in Montenegro below. Compare flights to Montenegro from over a hundred airlines worldwide and book online with us today.
Montenegro, meaning 'Black Mountain', is a small country in south-eastern Europe. It is just across the way from Italy, separated by the blissfully warm waters of the Adriatic Sea. Otherwise, it is next-door neighbours with Croatia, Bosnia and Herzegovina, Serbia and Albania. This remarkable little country is home to around only 650,000 people, and has a mainly service-based economy. It is one of the newest countries in the world.
From the binds of its Yugoslavian past, Montenegro is emerging as a unique treasure, and now stands out on its own as a beautiful nation, steeped in history and culture.
Its two international airports are Tivat Airport, and Podgorica Airport, with only 80 kilometres between them. Podgorica is Montenegro's capital city, but most tourists choose to use this city as a thoroughfare, rather than a main destination.
Montenegro's real attractions are its wild, craggy mountain ranges, and deep, plunging canyons; its beautifully warm climate and idyllic beaches; its emerald green pine forests and sapphire blue lakes; and its quaint, historic towns and friendly, welcoming atmosphere.
With 270 kilometres of stunning coastline to indulge in, Montenegro is a beach-lover's paradise. It is also a heavenly break for the outdoor pursuits fanatics out there, with its rugged hiking trails, adventurous bicycle routes, and exhilarating white water rafting spots – to name but a few of the exciting opportunities to take advantage of in Montenegro. History buffs also have plenty to do here, and its medieval towns and World Heritage Sites will fulfil your hunger for yesteryear.