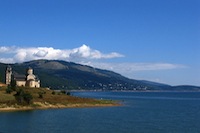 Book cheap flights to Macedonia by selecting an airport destination in Macedonia below. Compare flights to Macedonia from over a hundred airlines worldwide and book online with us today.
The country of Macedonia lies in south-eastern Europe and is landlocked, around Serbia, Bulgaria, Greece, and Albania. Known as one of the more undiscovered countries in Europe, Macedonia highlights wonderfully natural surroundings and plenty of activities for tourists.
Macedonia's capital is Skopje, which is located peacefully on the north course of the Vardar River that flows through the country. There are two international airports in Macedonia, with the Alexander the Great Airport in Skopje and St. Paul the Apostle Airport in the south-western town of Ohrid, both of which serve many main European countries, including England. It is also at these two locations where the bulk of Macedonia's attractions lie. Fans of architecture will love Skopje, with a vast array of historic buildings including churches, mosques, towers, and the Skopje aqueduct. In addition, the natural sights of the city make for great walks and guides that will enthral. Ohrid is situated on Ohrid Lake, which has been around for millions of years and is a wonderful sight to take in at sunset and relax. There are a few beaches here, with Gradiste appreciated by the younger generation and Labino and Ljubanista being quieter and more tranquil. Macedonia also has three national parks - Galicica, Mavrovo and Pelister - which offer great activities such as biking, hiking and skiing.
Much of Macedonia's economic output comes through its expertise in textiles, with other important exports in food processing, iron, beverages and steel.