Skopje Summer Festival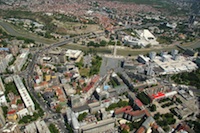 Skopje is the political and financial capital of Macedonia. Its primary airport, where all flights land and take off from, is Skopje Aleksandar Makedonski International Airport. The city has a diverse history, which is reflected in the way its culture has developed over the centuries. In fact the city has been occupied by no less than three different empires and has developed a very unique cultural, social and architectural identity. Today, the cultural, social and architectural identity of the capital of Macedonia can be seen in its world renowned festival, the Skopje Summer Festival.
The city of Skopje has experienced a diverse range of influences throughout its history. The destination has developed a multicultural identity derived from the three major empires that governed it at various points in its history, Byzantine, Roman and Ottoman. Even as recently as the 20th Century, Skopje was under the control of the Soviet Union.
The Skopje Summer Festival, which was first held in 1979 is a cultural manifestation of everything that the city stands for. It features artists, musicians, entertainers and performers, all showcasing their work in the fields of fine art, music, film, theatre and multimedia. One of the most notable aspects of the festival is that it is not confined to any particular location in the city, but instead dominates the whole of Skopje.
Other popular festivals, celebrated annually in this resurgent destination, reveal its musical heart. They include the Offest, Skopje Jazz Festival, May Opera Evenings, Autumn Music and the BuskerFest.