Pristina Cheapest Fares
The lowest fare found to Pristina (PRN) was £182 with Austrian Airlines. The fares shown here are the lowest flight prices to Pristina obtained in actual searches by Just The Flight customers. To search and book flights to Pristina in 2022, please enter your requirements and click the search button above.
Historic cemetery opens to visitors in Pristina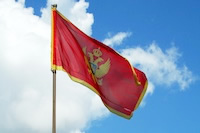 One of the most historic cemeteries in the Balkans opened its doors to visitors after more than a decade of complete disrepair. Pristina, the capital of Kosovo, is home to a United Nations mission and several international peacekeeping organisations, but it also has a number of interesting mosques and cultural venues that serve its Muslim majority.
Students from Dartmouth College, in New Hampshire, took it upon themselves to travel to Pristina and restore the city's 19th century Jewish cemetery, which had been badly damaged during the bombings and battles of the 1998-1999 war. When they first started the lengthy process of restoring the historic cemetery, in the spring of 2011, the inscriptions on many of the tombstones were completely illegible and the entire area was overgrown by weeds. Many of the students were studying the history of genocide and visited parts of Eastern Europe where atrocities took place, including Auschwitz, in Poland, and Pristina in Kosovo.
The US college students erected a monument in memory of Kosovo's historic Jewish minority, which dwindled following the Holocaust and once again after the Yugoslav wars of the 1990's.
Pristina is Kosovo's most prominent tourist destination and the easiest way to get there is by air. Austrian Airlines and Malev-Hungarian Airlines operate regular scheduled flights to this fascinating, Balkan destination every day of the week, from Vienna and Budapest respectively. Bus services are also available from neighbouring Macedonia, Serbia and Albania, but they tend to be quite slow, due the poor roads in the region.