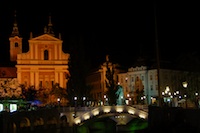 Book cheap flights to Slovenia by selecting an airport destination in Slovenia below. Compare flights to Slovenia from over a hundred airlines worldwide and book online with us today.
Ideally placed near the Mediterranean Sea and the Alps, Slovenia can provide a fantastic break for anyone who chooses to visit. Independent since the break up of former Yugoslavia in 1991, Slovenia is enjoying a period of prosperity. Slovenia's location has provided it with a rich tapestry of influences, including the Italian and Germanic. The capital city of Ljubljana is the focal point for many visitors to Slovenia and is served by the Ljubljana airport, one of Slovenia's biggest and busiest airports, offering flights to and from numerous European destinations.
For such a small country, Slovenia has a remarkable range of landscape, featuring alpine terrain in the north and Mediterranean topography in the south. Those who heed the call of the mountains will be drawn to the Julian Alps and the nation's highest peak, Mount Triglav. The impressively picturesque Lake Bled and Soca Valley need to be seen to be believed. There have been over 28 million visitors to Slovakia's caves, most notably Postojna Cave and the UNESCO listed Skocjan Caves. Half of this marvellous country is covered in forest, so anyone who loves the great outdoors will be perfectly at home in Slovenia.
The capital city of Ljubjana is a remarkable area, featuring hilltop castles and a dazzling river all crammed into a compact space. As Slovakia's cultural and political centre, Ljubljana is a busy place, but doesn't feel as rushed as many other capital cities, preferring to take everything in its stride. The compact nature of the city also means that all the best sights are within easy reach.