Ljubljana Cheapest Fares
The lowest fare found to Ljubljana (LJU) was £72 with EasyJet. The fares shown here are the lowest flight prices to Ljubljana obtained in actual searches by Just The Flight customers. To search and book flights to Ljubljana in 2022 and 2023, please enter your requirements and click the search button above.
The SKIS Market, Ljubljana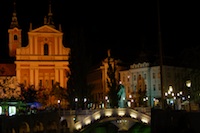 Ljubljana, the capital city of Slovenia, is also the soul of the country. The city is one of the smallest capitals in Europe and as a result, creates the perfect balance between a small city and a seat of government. This destination is especially characterised by the number of students that attend the university. The city is fortunate in having the ability to attract students from other cities and countries in droves thanks, at least in part to the famous SKIS Market, which is held there every year.
The SKIS Market is one of the most innovative festivals in the world. One of the key benefits of international festivals, whatever they are celebrating, is that they tend to promote a better understanding between people from different cultures and societies. The SKIS Market is one of the largest student fiestas in the world and it invites student clubs from all over the country and the world to participate in a sharing of culture. It concentrates on highlighting and celebrating each culture's uniqueness and peculiarities to visitors to Ljubljana. These differences manifest themselves in various forms, from food and drink to religious beliefs and art. The event gradually evolves from a toned down exhibition into a large-scale party, as stands of food and drink start to have their effect, accompanied by the concerts that are held along with the displays. The celebrations last late into the night as the students party and make new friends from various countries.
This young at heart destination is served by the Jože Pučnik Airport or, as it is more commonly known, Brnik Airport.