Crystal Water and Mahler in Klagenfurt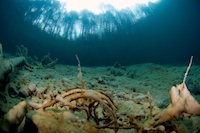 "There can't be many lakes where you can drink the water as you bathe", writes journalist Catherine Eade of Lake Wörthersee in Klagenfurt, Austria. While swimming in the clean turquoise waters of the lake in Southern Austria, she wondered whether Gustav Mahler, who composed his best symphonies on these shores, had been partial to swimming there.
Eade was attending the Wörthersee Classics Festival, held every year at this destination, commemorating the anniversary of the death of the composer who lived locally.
Klagenfurt, known as "the Rose of Lake Wörthersee" is the capital of Carinthia in southern Austria. Situated on the banks of a lake on the Glan River and surrounded by forests, hills and high mountains, the city has an idyllic setting. The Altstad (Old Town) with its charming arcaded courtyards has a history going back some 800 years.
Wörthersee lake is about 20 kilometres long and flows through steep forested alpine foothills and snow capped mountains. At its widest, it is two kilometres across with transparent water that has a distinctive blue-green colour.
The lake itself is a popular tourist destination, with water temperatures sometimes reaching 25 degrees Celsius. As a result, it has become the venue for annual events such as Ironman Austria and the Beach Volleyball Grand Slam.
Getting about on foot in town is easy, whilst there is an extensive bus network and a shuttle from the central station to the airport three kilometres away. Bicycle hire is recommended for exploring the beach at the lake and a cycle path runs all the way to Velden.