Graz Cheapest Fares
To search and book flights to Graz in 2021 and 2022, please enter your requirements and click the search button above.
Graz: The Culinary Capital of Austria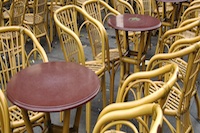 As one of the largest cities in Austria, Graz boasts a host of activities and attractions, but nothing is more important to the culture of the area than the city's greatest claim to fame as the capital of culinary delights! The restaurants and local food products that are in abundance in Graz are some of the best in all of Europe, and they attract food lovers from around the world to this destination.
With a focus on traditional cooking with an international flair, chefs in Graz are some of the best in the world, and they have crafted an innovative approach to cuisine. Restaurants are spread throughout the city, offering a bevy of culinary styles from traditional Austrian food with a modern edge to international cuisines and award-winning restaurants that serve only the freshest, best ingredients that the region has to offer.
Wine and beer are also on full display in Graz, with many bars and vinotheques opened for the connoisseur and the average wine-lover alike. Visitors can purchase some of the most delicious products from farms and culinary artisans to bring back with them to their homes as a remembrance of their time in Austria.
The culmination of Graz' culinary delights can be found at the Gourmet Festival each summer, where local and international chefs compete by showcasing their creativity and understanding of seasonal ingredients. Visitors can partake of the delicious cuisine while enjoying an exciting festival experience in a historic city.
Flights leave daily for Graz for visitors looking to enjoy the exceptional cuisine of this destination throughout the year.