Just the Flight's Guide to Vienna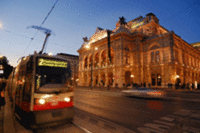 "The hills are alive with the sound of music!"
Just the mention of the name Vienna, Austria will evoke images of Julie Andrews running through the hills in the musical "The Sound of Music". Indeed, music is a big part of the city's culture, and anyone who regularly hops on flights to Vienna will attest to this fact.
Vienna, the largest city in Austria as well as the country's capital, was a very grand city during its imperial past. The Habsburgs ruled the city for 600 years and it became a prominent centre of art, music and architecture. It has always been associated with romance and splendour, delicious pastries, charming waltzes, the operetta, and the Danube River. Johann Strauss, the famous 19th-century composer, was so inspired by Vienna that he composed the now immortal "Blue Danube Waltz".
Direct flights to Vienna can be booked through most European airlines and a number of international airlines. If you are on a tight travel budget, try booking cheap flights to Vienna through some of the available budget airlines. You will touch down at Wien Schwechat (Vienna International Airport), which is 18 kilometres southeast of Vienna near the town of Schwechat.
If you are an art connoisseur, you will definitely enjoy visiting the Liechtenstein Museum located at the Liechtenstein Garden Palace. This is a rare collection of art masterpieces from Liechtenstein's own collections that went on display in 2004. You will be able to see Raphaels, Rubens and Rembrandts amongst some 1,700 works of art here in one of the world's greatest private art collections.
Next, make your way to the MuseumsQuartier, a giant modern art complex opened in 2001, and one of the 10 largest cultural complexes in the world. It is the equivalent of the Museum of Modern Art, New York's Guggenheim Museum, Brooklyn Academy of Music, complete with a children's museum, an architecture and design centre, theatres, art galleries, video workshops, and much more all rolled into one. You can also find an architecture museum, ecology centre, and even a tobacco museum.
Another attraction not to be missed is the Naturhistorisches Museum (Natural History Museum). Located in a magnificent neo-Renaissance building near the Museum of Fine Arts, this is the third-largest natural history museum in the world. It was set up by the husband of Empress Maria Theresa (Franz Stephan von Lothringen) in 1748. Among the highlights of this museum's collection is the Der Juwelen Strauss, a two-feet tall bouquet of flowers crafted from more than 2,000 gemstones; and the Venus of Willendorf, a 24,000-year-old Stone Age artefact discovered in Lower Austria in 1906.
As mentioned earlier, Vienna is a musical city. It has given birth to many talented composers and musicians. You will be able to hear the music of Mozart, Schubert, Haydn, Strauss and Beethoven in the concert halls and palaces where their masterpieces were first performed. Not only that, you can even visit the houses in which these musical legends lived and the cemeteries where they were buried. A very popular house is Mozartwohnung (Mozart Memorial), a 17th-century house, also known as the House of Figaro because Mozart composed "The Marriage of Figaro" here. Another famous house worth visiting is Beethoven Pasqualati House (Beethoven Pasqualatihaus) where Beethoven composed his Fourth, Fifth, and Seventh symphonies. Visitors are able to view some Beethoven family portraits and the composer's scores.
If you need an activity especially suited to children, you can bring them to the Wurstelprater, an amusement park in the second district of Vienna, Leopoldstadt. The most popular attraction of the park is the Wiener Riesenrad, a Ferris wheel. Standing tall at 9 metres near this Ferris wheel is Calafati, a sculpture of a Chinese man, which is also the park's mascot. There are various rides, bumper cars, rollercoasters, carousels and more to keep the children entertained for a long time. Other fun activities for kids in Vienna include climbing the tower of St. Stephan's Cathedral, watching performances at the Spanish Riding School or maybe a picnic in the Vienna Woods.
Some popular Viennese cuisine that you must try include: Wiener Schnitzel, cuts of veal pounded flat, coated in egg, flour and breadcrumbs, and fried in clarified butter; Apfelkren (a mixture of apple, cream and horseradish); Tafelspitz (lean boiled beef) which is traditionally served with Geröstete Erdäpfel (potatoes that have been boiled, mashed and subsequently fried) and horseradish sauce; and Schnittlauchsauce (a chives sauce made with old bread and mayonnaise). Eat to your heart's delight, but you may find you need to do a little exercise upon returning from your trip!