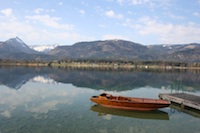 Book cheap flights to Austria by selecting an airport destination in Austria below. Compare flights to Austria from over a hundred airlines worldwide and book online with us today.
From the soaring Alps to the lush Danube Valley, Austria is an impressive country of startling contrast. Located in central Europe, Austria lies just north of Slovenia and Italy. It is a country of magnificent beauty, culture, and friendly folks.
A walk through any city of Austria will take you back in time. The country is noted for its many remarkable historical buildings, massive museums, ancient landmarks, and world class skiing. It is also a country of magnificent natural beauty with amazing mountain scenery and bottomless valley views.
Austria has produced musicians such as Schubert and Mozart, and is the birthplace of Sigmund Freud. It remains known for its musical and cultural impact on the world. Austria is also famous for ornate attractions such as Hofburg, Opera House, and baroque cathedrals.
The Vienna International Airport is located in the capital city of Vienna. There are several major airports in other notable cities such as Graz, Innsbruck, Klagenfurt, Linz, and Salzburg.
While visiting Austria, experience a floating opera in style with a visit to the city of Bregenz or check out the famous Vienna ferris wheel in Prater Amusement Park. While in Vienna, do not miss the chance to experience St. Stephen's Cathedral.
The nation's main industry is in natural resources. Nevertheless, the country enjoys a healthy tourist trade like most other cities in Europe. Austria remains a natural destination choice for tourists with an interest in international culture, food, and shopping.