Bratislava Cheapest Fares
To search and book flights to Bratislava in 2020 and 2021, please enter your requirements and click the search button above.
Bratislava Cow Parade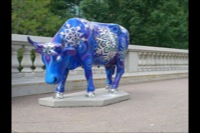 In 1999, cows began their slow takeover of the world. That is when the first "cow parade" took place in Chicago. Since then, the cows have paraded all over the globe, including into the old town of Bratislava.
The cow parade is more or less what it sounds like. Statues of cows are given to selected artists, who paint the cows and put them on display throughout the city. Not just anyone gets to paint a cow. Artists must submit their design in advance. If selected they get about a month or so to paint their cow. Then, in June, the cows are welcomed into the city.
The event is not all fun and games. There is actually an important charity component to the festival. Every cow is auctioned off, with the proceeds going to a charity to help children in need. The cows are given their farewell in September and then auctioned off officially in October.
The cow parade has become a cultural draw since it first started. Many of the designs are intricate and beautiful. The streets of Bratislava are suddenly filled with life sized cow art, drawing the eyes of international tourists and natives of Bratislava alike.
The organisers of the event try to keep the fun going all year round. Even when it is not official cow parade season, many of the statues are left about the city, and their locations are published online for anyone who would like to go on a cow hunt through Bratislava.