Kosice Cheapest Fares
To search and book flights to Kosice in 2022, please enter your requirements and click the search button above.
Enjoy Kosice's Music Festival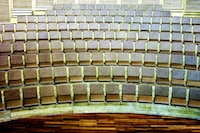 Kosice, Slovakia is home to one of the oldest music festivals in the world, the Kosice Music Spring Festival. The festival began in 1956, and has grown into a major international event organized by the Slovak State Philharmonic Orchestra. It is now considered the peak part of Kosice's concert season, which classical music fans throughout Europe do not want to miss. If you are a classical music enthusiast, you will certainly wish to consider Kosice as a destination during the month of May.
The festival, held at locations in Kosice, Slovakia that include the State Theatre and the Dom umenia concert hall, highlights both Slovakian and international music, as well as art. Some of the best orchestras, ensembles and singers in the country perform at the festival. The Slovak State Philharmonic Orchestra is a main attraction of the festival every year. Guest orchestras from other European nations, such as Russia and Germany, have performed during the festival in earlier years. The combination of artists gives visitors a memorable, enjoyable experience.
If you are interested in the art that is available, make the House of Arts an important destination on your holiday list. Its exhibits feature various types of pictorial artwork from artists of various backgrounds. Another important part of the festival is the opera performances. These are held at the State Theatre, which is easily accessible to travellers who are staying in Kosice. Some of the world's most popular are performed during the festival.