Trieste Cheapest Fares
To search and book flights to Trieste in 2021 and 2022, please enter your requirements and click the search button above.
International Athletes head to Trieste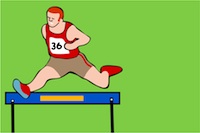 The Bavisela sporting event is held in Trieste each year and is a breathtaking sight, and brings many tourists to Italy each spring to join in with the fun. There are marathons, triathlons and other races; spectators line the streets of the city to cheer on the competitors.
The competitions attract international athletes from all over the world, especially for the European marathon event, which is an important race for professional athletes. There is also a children's race that proves very popular, in which thousands of youngsters take part. A vast range of other entertainments, music and shows add to the general excitement and celebrations.
This event is perfect for sports fans, or for anyone who enjoys soaking up a party atmosphere cheering on the racers. Trieste itself also has a great deal to offer tourists including fascinating museums, ancient Roman architecture and its own wonderful atmosphere. Combining a visit to this lovely Italian city with all the excitement of the Bavisela is sure to make for an unforgettable trip.
There is a wide range of places to stay in the city for all budgets, but early booking may be wise while this event is on, as many visitors are drawn to the area. The local Friuli Venezia Giulia airport provides flights to the UK, Germany and Belgium as well as destinations throughout Italy, so transportation to the area from most locations is easy. This is a great time to visit the city.