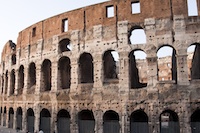 Book cheap flights to Italy by selecting an airport destination in Italy below. Compare flights to Italy from over a hundred airlines worldwide and book online with us today.
Italy is located in southern Europe, on the Mediterranean Sea. Its borders are shared with Slovenia, Austria, Switzerland, and France. Its location has allowed it to enjoy a very vibrant history.
The capital city is Rome, which is home to some of the finest historical and cultural attractions in the world. Florence, another major city, is considered one of Europe's art capitals. Milan is Italy's main trade centre, and home to many noted clothing designers.
Rome has two international airports, known as Ciampino and Leonard Da Vinci. Milan also has two airports, called Linate and Malpensa. Most of the larger cities have their own airports.
The many attractions in the country are found in several regions. The capital is filled with historical sites related to the ancient Roman Empire, including the Forum and the Colosseum. The Vatican, with its numerous churches and museums, is worth a visit. If you travel to the area around Naples, you can see the ruins of Pompeii. You will be amazed at the power of Mt. Vesuvius and the damage its eruption did to this ancient village. A trip to Florence will allow you to see some beautiful artwork dating back to the Renaissance era. The works of Michelangelo, Da Vinci, Boticelli, and many other masters are found in museums here.
Italy has several thriving industries, with cars, appliances, clothing, and many other items being exported yearly. Tourism also provides the country with much of its revenue. The transportation industry continues to contribute to the economy.