Turin Cheapest Fares
The lowest fare found to Turin (TRN) was £82 with Jet2. The fares shown here are the lowest flight prices to Turin obtained in actual searches by Just The Flight customers. To search and book flights to Turin in 2020 and 2021, please enter your requirements and click the search button above.
Cultural Events Define any Holiday in Turin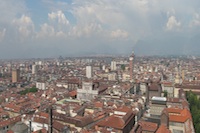 Regarded as the most French city in all of Italy by locals and visitors, the charming and historic city of Turin is a prime location for anyone looking to experience Italy at its best. The area is filled with Old World architecture, stunning works of art and vibrant neighbourhoods filled with markets and museums. Side trips to other parts of the Italian countryside are easily accessible from this location, making it a favourite for those who want to avoid the over-commercialised aspects of other more popular tourist destinations in Italy.
Turin is also best known for its lively cultural scene, which includes classical music and opera, as well as dance and theatre performances throughout the year. The city has two venerable theatre venues that offer a bevy of productions and performances throughout all four seasons. The Auditorium della RAI is the venue for the National Symphony Orchestra and is a charming destination for all classical music lovers. The Teatro Regio, located in the centre of the historic city, is another favourite, offering an array of dance performances, concerts and operas throughout the year.
September is the best month of the year to visit Turin for music lovers, however, because of the acclaimed Settembre Musica Festival. More than 60 classical music concerts are held on stages throughout the Old World location during the month, and the area comes alive with some of the most beautiful music of all time, performed by some of today's most talented musicians.