Naples Cheapest Fares
The lowest fare found to Naples (NAP) was £49 with EasyJet. The fares shown here are the lowest flight prices to Naples obtained in actual searches by Just The Flight customers. To search and book flights to Naples in 2022 and 2023, please enter your requirements and click the search button above.
The Pizzafest of Naples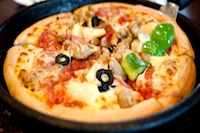 While often described as a city of contradictions, Naples is primarily one of those places in the world that has an extremely rich history. This is embodied by the fact that its city centre has been designated a UNESCO World Heritage Site. Arguably the most fun aspect of this ever popular destination, however, is the Pizzafest, which takes place every year in September.
Naples or Napoli, to give it its Italian name, is regarded as being one of the most beautiful cities in the world. It is also one of the many places in Italy that are known for their pizzas. This fact is celebrated annually, in the Pizzafest, a festival that takes place at the Mostra d'Oltremare. The Pizzafest is where the secrets of the pizzas of Napoli are revealed to anyone and everyone. For all lovers of this speciality, experiencing the process of how a genuine Italian pizza is made can be quite enriching and enlightening. What could be more pleasant than learning how to make the various different types of pizzas than to eat a selection of them? In addition, the Pizzafest also features concerts and various other activities, which are there to supplement the consumption of vast quantities of pizzas. Another aspect worth noting is that, over the years, Pizzafest has taken on an international outlook, with pizzerias from various countries participating in the festival.
This destination is a historical wonder for anyone interested in its history and indeed, that of the entire region. All domestic and international flights land at Naples Airport.