Venice Cheapest Fares
The lowest fare found to Venice (VCE) was £51 with EasyJet. The fares shown here are the lowest flight prices to Venice obtained in actual searches by Just The Flight customers. To search and book flights to Venice in 2020 and 2021, please enter your requirements and click the search button above.
Carnival of Venice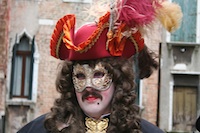 Travelling is often thought to be an opportunity to discover who you are, but what if you could be somebody completely different? Take a trip to Venice between February and March and lose yourself in the destination's exotic, mysterious and intoxicating carnival.
Dating back to 1296, the Carnival of Venice is the largest and most important festival on the Venetian calendar. It is a heady mixture of tradition, history and entertainment that astounds visitors every year. Celebrating the change from winter to spring, the carnival is a time to believe that anything is possible; by simply wearing a mask, a person can throw off their social status and assume a new identity.
Masks are what make the Venetian carnival unique; however, the Doges, the rulers of Venice, imposed strict laws on the use of masks at night and outside of the carnival to limit the dangers of unknown persons wandering the streets. The popularity of the festival declined in the nineteenth century and was then banned by Mussolini in the 1930s, but after being revived in 1979, the Carnival of Venice and it's masked revellers became instantly recognisable.
Wander Venice's maze of streets and canals behind a painted and feathered mask and discover what opportunities await you in this enchanting destination. From acrobats and magicians to ballroom dancing, there is plenty to entertain visitors day or night. On Martedi Grazzo, Shrove Tuesday, watch as Piazza San Marco is transformed into a dance floor for a masquerade ball and enjoy the extravagance that the city has to offer.