Cagliari Cheapest Fares
To search and book flights to Cagliari in 2022, please enter your requirements and click the search button above.
Rosso Tango Festival, Cagliari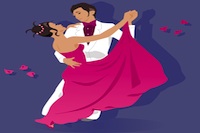 The beautiful city of Cagliari, set in the heart of the popular Italian holiday destination of Sardinia and the Mediterranean's most ancient island, becomes home to the romantic and passionate Argentinian Tango for eight days in July when the Rosso Tango Art festival comes to town.
The festival takes place against the city's dramatic backdrops, between the historic quarter, castle and the natural bay set upon a theatrical rocky cliff face which drops directly into the sea.
The Italian island destination offers and showcases some of the very best and talented Tango dancers from Argentina and Italy. For those who wish to learn this passionate dance, the festival also gives you the opportunity of more than 60 hours of practice classes with the very best Tango teachers, taking place in some of the city's most ancient and spectacular venues.
There is also a unique show called 'Amador' which combines Tango, circus and traditional folklore in dance and also a day dedicated to the beauty of Sardinian and Argentinian folklore called 'Ballu Tundu e Zapateo' with classes of Sardinian dances, chacarera and other performances. There are also tasting sessions of Argentinian and Sardinian wine and cuisine.
The festival programme also includes a typical festive Sardinian dinner which is accompanied by a concert from the Contramilonga group, a folklore show and the screening of various short films 'Cinefilia Tanghera'. There are also boat trips around the islands and seminars of Tango, speed Tango, yoga and t'ai chi taught by guest teachers from across the world. There is the opportunity to meet and talk with some of the dance world's most exciting Tango professionals.