Catania Cheapest Fares
The lowest fare found to Catania (CTA) was £66 with EasyJet. The fares shown here are the lowest flight prices to Catania obtained in actual searches by Just The Flight customers. To search and book flights to Catania in 2022 and 2023, please enter your requirements and click the search button above.
Festival of Saint Agatha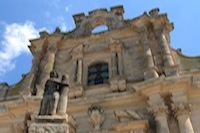 Saint Agatha is the patron saint of Catania. Every year, the people there hold a huge festival to honour her. Some estimates put attendance for the Festival of Saint Agatha at about one million people every year. The festival consists of a procession and stretches over three days. It is the world's second largest festival of this sort.
The Festival of Saint Agatha is not just some large street party. It is actually a religious festival that the natives of Catania, Sicily, take very seriously. It is the most important religious festival in that area, actually, and was established to commemorate the life of Agatha of Sicily.
Agatha of Sicily has become an important saint for the people of Catania. The people celebrate her martyrdom and the return of her remains to Catania. The festival lasts for three days during early February. During these days, it engulfs the city. Saint Agatha passes through neighbourhoods on her silver carriage during the second and third day of the festival. The first day of the festival is more solemn; the procession walks through the streets bearing standards. Cathedrals are crowded with worshipers during the festival. A Pontifical Mass culminates the event.
Catanians are devoted to Agatha in part because of Mount Etna. This active volcano sits just outside of the area. The people turn to Agatha when the volcano starts acting up, looking to her to spare them its wrath. This may help explain the huge popularity of the Festival of Saint Agatha.