Ancona Cheapest Fares
To search and book flights to Ancona in 2020 and 2021, please enter your requirements and click the search button above.
History Abounds in Ancona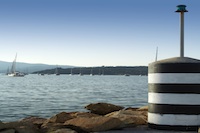 Founded by Greek settlers around 387 BC, Ancona is a beautiful and historic city located in the central Italian region of Marche. Nestled between a bay on the Adriatic coast and foothills, Ancona offers a varied holiday destination in tranquil surroundings.
Its attractions are as numerous as they are varied, cathedrals seem to appear around every corner, museums and art galleries are in abundance here, and ancient Roman monuments are as much a part of the landscape as the sea and the hills around Ancona.
The best of the Roman monuments is surely the marble Arch of Trajan, which stands at an impressive 18 metres tall. Widely acknowledged as the finest Roman monument in the Marche, it was erected in around 114 AD to serve as an entrance to the causeway above the harbour. Unfortunately, most of the original bronze with which it was decorated has long since gone, but the stonework remains as impressive now as it must have seemed when first erected. Comprised of two flute Corinthian columns, the archway is a mere three metres wide. Perched on top of a high podium, it is accessed via a wide set of stone steps.
History is everywhere you look in Ancona, and should you choose it as your holiday destination, you will be greeted by the remnants of the many tribes who have invaded, from the Romans to the Goths, the Lombards and the Saracens. Rarely do you find a single city inspired by so many. Why not let it inspire you?