Pula Cheapest Fares
The lowest fare found to Pula (PUY) was £88 with EasyJet. The fares shown here are the lowest flight prices to Pula obtained in actual searches by Just The Flight customers. To search and book flights to Pula in 2020 and 2021, please enter your requirements and click the search button above.
Visit Pula for the two month long Summer Festival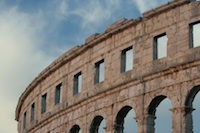 Croatia is a spectacular destination of deep blue waters, sandy beaches, endless sun, and cultural dance. It is also a country of authentic tradition and vibrant modern life, as the city of Pula remains one of the country's most desired holiday destinations.
The city's centre is dedicated mainly to businesses; however, a few kilometres away are sandy beaches, nightlife hotspots and upmarket restaurants. Most of the sights that visitors come to see are along the Verudela Peninsula, which means it is a good idea to hire a car during your stay.
There are some sights in the centre of Pula that should not be missed. These include the Roman Ruins, including the magnificent Roman amphitheatre that dates back to 31 BC, the Triumphal Arch of Sergius, which is also called the Golden Gate, and the Roman Forum that contains the Temple of Augustus. It is here that architects such as Robert Adam and Michelangelo studied the well-preserved Arch.
The oldest gate in town is Hercules's Gate, which was named after the town's patron and is decorated with a replication of his head. The Cathedral of the Assumption is the oldest church in the city dating back to the 4th and 5th century. The Gothic masterpiece of the Franciscan Church and Monastery should not be missed during your stay.
During the month of July, the city hosts many concerts, plays, and festivals in its amphitheatre. The largest festival for Pula each year is the Pula Summer Festival. This event takes place for the two full months of July and August and consists of a series of concerts, plays, and national artists.