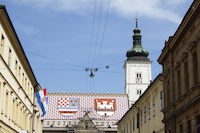 Book cheap flights to Croatia by selecting an airport destination in Croatia below. Compare flights to Croatia from over a hundred airlines worldwide and book online with us today.
Croatia, officially known as the Republic of Croatia, is an Eastern European country that is at a crossroads between the Pannonian Plain, the Adriatic Sea, and the Balkans. Its largest city and capital is Zagreb. Croatia sits upon Slovenia's southern borders, Hungary's south-western borders and has Bosnia and Hergovina to its south-east with Serbia in the east. It also shares a border with Montenegro. Since 1991, Croatia has been an independent and sovereign state although keeps strong trade ties with its neighbours and with the rest of Europe. It is a member of the United Nations and the Council of Europe as well as NATO, CEFTA and the WTO. It is currently a candidate for the European Union and was a founding member of the Union for the Mediterranean.
The capital, Zagreb, is home to Croatia's main international airport, Zagreb Airport, also known as Pleso Airport after the nearby suburb of Pleso. The top tourist attractions of Zagreb include the Old Town Walking Tour that includes a famous sculpture of a bishop reading the bible and facing the northern walls of the Diocletian's palace. Another tourist attraction is the Zagreb Mimara museum, which was designed by Ludwig-Hulsner and overseen by a Croatian architect, Frano Krsinic. The museum features over 3,000 pieces from eras including ancient Egypt, Mesopotamia, Persia, ancient Rome and ancient Greece as well as prehistoric artefacts.