Zagreb Cheapest Fares
The lowest fare found to Zagreb (ZAG) was £1383 with KLM. The fares shown here are the lowest flight prices to Zagreb obtained in actual searches by Just The Flight customers. To search and book flights to Zagreb in 2022, please enter your requirements and click the search button above.
Unique Zagreb!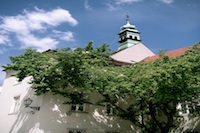 Zagreb, capital of Croatia is relatively easy to travel around once you realise the city is divided into two sections: The Upper and the Lower Towns. Broadly speaking the Upper Town is where you will see the old architecture, museums, and landmarks of the city and is usually where visitors spend most time. The entrance to the Upper Town is marked by Kamenita Vrat, the Stone Gate, a huge mediaeval tower. The Lower Town is mainly devoted to trade, shops, and commerce, al fresco cafes and nightlife. This division is most helpful to the sightseer.
This city has many wonderful sights but one of the most unusual has to be the Broken Relationship Museum. Instead of throwing out those cute teddy bears and other symbols of love, people have been donating them to the museum. This may sound like a strange thing to do but people do find some solace in this and the museum boasts an impressive collection of romantic memorabilia from statues and clothing to jewellery. Not every piece has monetary value of course but each has its own little tale attached and it is this that adds true value. An unusual idea and definitely worth a visit.
Sljeme Mountain is a wonderful destination to get away from the city for a while and is superb hiking country. Look out for the Medvedgrad Castle ruins, which you will pass en route.
The Ethnographic Museum is a very interesting display of Croatian culture and history.
Zagreb Cathedral is also worth a visit. The ususual shape of the twin-towered building draws the eye and the interior is no less stunning.