Split Cheapest Fares
The lowest fare found to Split (SPU) was £110 with EasyJet. The fares shown here are the lowest flight prices to Split obtained in actual searches by Just The Flight customers. To search and book flights to Split in 2023 and 2024, please enter your requirements and click the search button above.
The exciting Split Festival is a must see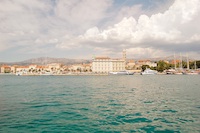 Croatia may be a small country but it has a big adventure written all over it. Lying along the shorelines of the Adriatic Sea, Split, Croatia is the perfect destination for anyone seeking culture, history, solitude or just a totally unique holiday.
Split makes a great place to venture out from, if you want to explore the rest of the country. It's not overly crowded, nor is it expensive. It remains basic yet modern in its day to day lifestyle, which seems to be ideal for many travellers.
The summer months are typically the busiest time of the year but even at its peak busy season there is still a lot of room to manoeuvre and get around. Once in awhile, you will encounter the odd cruise ship making port but most of the visitors to Split tend to come from local villages or neighbouring cities. Its mild temperatures tend to attract a steady flow of visitors year round, so finding flights to Split should be easy enough.
The main event that takes place in Split each year is the annual Split Festival. Locally called Festival Zabavne Glazbe Split, this month long festival has been attracting thousands of visitors from around the world since it began in 1960. This mega cultural event is a way for the country to show off its best in arts and culture through music, dance and food.