Cheap Flights to Pescara (PSR) from UK Airports
Book flights to Pescara
Pescara Cheapest Fares
To search and book flights to Pescara in 2020 and 2021, please enter your requirements and click the search button above.
Pescara, Italy's answer to Miami, named European City of Sport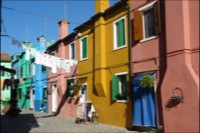 It would be hard to identify the most appealing feature of the Province of Pescara. The warmth of its residents, the beauty of its landscapes and shorelines, the food and wine, and its folklore festivals all combine to make the region a most attractive tourist destination.
The city of Pescara has recently been named as a European City of Sport. In addition to being a prime destination for hosting sporting events, Pescara also hosts an International Film Festival, as well as an International Festival of Jazz. Both of these events draw attendees in their thousands from all over the world It is easy to understand why the city of Pescara is becoming one of the most sought after tourist destinations in Europe .
The overall structure of the city has been modified in recent years so that Pescara is well placed to face the challenges of the third millennium. Improved access has been the result of the millions of Euros that have been invested in the road, rail, air, and sea links with the rest of Europe. €6 million has been spent improving the existing sports facilities and building new ones. Plans are being made to improve access to the city centre from the marina and port area. Abruzzo Airport is approximately three kilometres from the centre of Pescara. A newly built major highway provides an easy commute to the city and the airport is now conveniently located on the border between Pescara and San Giovanni Teatino.