Rome Cheapest Fares
To search and book flights to Rome in 2020 and 2021, please enter your requirements and click the search button above.
Tennis Masters Take Rome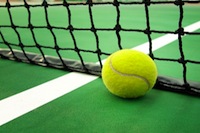 The masters of tennis arrive in Rome every year around May to crown the king of tennis. The event includes the best tennis players in the world and features some intense competition.
The Italian Open Tennis Tournament (Masters series), or Rome Open, comes to the city every year with the best tennis action in the world. It takes place at the Foro Italico tennis park, within sight of the historic Olympic Stadium. The surface chosen for the event is clay, providing somewhat slower, but more exciting action.
In recent years, Spain has been the country to beat at this prestigious event. Spanish tennis stars have dominated the tennis court, with the rest of the world battling to unseat them. The intense competition lasts nine gruelling days. It features men's singles, women's singles and doubles play.
Some tennis enthusiasts make the Rome Open part of a larger Gland Slam Tennis Tour. The Rome Open can be the culminating trip on a tour of tennis hotspots and events. It is probably a good idea to arrive in Rome ahead of the event, though, as many people flock to the city to see the Rome Open. Flights and hotels could get booked up quickly in anticipation of the event. Luckily, there is a wealth of cultural and historic sites to enjoy while you wait for the tournament to begin.