Rimini Cheapest Fares
To search and book flights to Rimini in 2020 and 2021, please enter your requirements and click the search button above.
Annual sporting event brings visitors to Rimini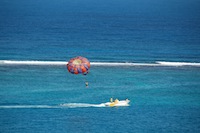 The coastal city of Rimini, in Eastern Italy, is a popular seaside destination for visitors all year round. Rimini is host to many festivals and events throughout the year with one of the most popular being the annual Paganello Frisbee event.
Paganello is a hugely popular sporting event that sees over 1000 participants from all over the world competing in two different disciplines. World Beach Ultimate Cup is a team sport, the beach version of ultimate Frisbee, where players score points by throwing the Frisbee to a teammate in the 'end zone'. The second event at Paganello is the World Freestyle Challenge, where players compete to perform the most impressive acrobatic and choreographed moves with Frisbees.
The 4-day event is traditionally held over the long Easter Weekend, with finals being held on Easter Monday. In addition to the competitors, thousands of spectators flock to these events annually. Although the sport of competitive Frisbee is being taken increasingly seriously, spectators and competitors are still keen to embrace the party atmosphere of Paganello.
The social aspect of Paganello plays a big role in the popularity of the event. In addition to the sporting competitions, Paganello features a variety of live music, dance shows, and activities for kids. The beach parties are ongoing and bars and food vendors can be found along the beach. As Paganello gains greater recognition and more people travel to the event, either to compete or spectate, Rimini continues to solidify its reputation as a prime Italian tourist destination.