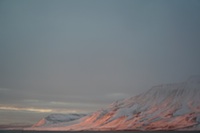 Book cheap flights to Svalbard And Jan Mayen I by selecting an airport destination in Svalbard And Jan Mayen I below. Compare flights to Svalbard And Jan Mayen I from over a hundred airlines worldwide and book online with us today.
Svalbard is an archipelago in the Arctic Ocean and is under the governance of Norway. This island group is considered the northernmost part of Norway, about midway between the Norway mainland and the North Pole. Due to the extreme northern location of these islands, they do not experience total darkness between late May and mid-August, enjoying long, extended daytime.
The most accessible part of the Arctic Circle, Svalbard is one of the most remarkable places imaginable with vast icebergs dominating the sea views. However barren and lifeless the ground may seem, grasses, lichen and delicate flowers manage to flourish, providing a serene counterpoint to the harsh landscape.
Despite being a 1000 km flight from the nearest major airport, Svalbard is an assault on the senses that will never be forgotten. Although the winters are long, harsh, and very dark, a visit at this time should not be discounted. There are plenty of activities to leave you rosy cheeked and exhilarated.
Jan Mayen is a tiny volcanic island situated in the North Atlantic Ocean. Its area of 373 square kilometres is partially covered in glaciers and contains large peaks, the highest being the volcano, Beerenberg, in the northernmost area of the island. The island has no permanent residents and provides only a temporary home to members of the Norwegian Armed Forces and Meteorological Society, numbering around 18 people in the winter and doubling to 35 in the winter. Transport to the island is usually only available via military transport.