Solfest in Longyearbyen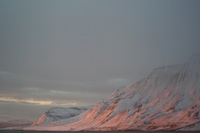 Up near the Arctic Circle lies the city of Longyearbyen. It is located on a group of islands known as Svalbard, which lie between the Norwegian, Greenland and Barents seas and the Arctic Ocean. Wild and beautiful, these islands draw travellers from around the world who want to view the wildlife, camp, trek and explore uncharted territory.
Primarily a Norwegian settlement, Longyearbyen is the northern-most permanently inhabited destination on the planet. The summer tourist season runs from approximately June to August, which also coincides with the midnight sun, when it never quite dips below the horizon at night. Solfest, usually held in early March every year, is the biggest event in Longyearbyen, and is a week-long culture and music festival celebrating the end of the Arctic Winter.
Outside exhibitions, several in ice buildings, along with concerts, indoor art exhibitions, and much more, carry on all day and into the night. The locals greet each other, and everyone waits for the day when the sun reaches the stairs at the old hospital—the 'official' sign that winter is over. Then the town erupts in cheering and song, and the festival is officially in full swing.
Longyearbyen residents are huge music lovers and, during Solfest, you'll hear quite a bit of the blues and jazz that are their favourites, along with every other type of music imaginable, from folk to classical. In this remote, untouched part of the globe you'll find a warmth and hospitality that's unmatched anywhere else. Find a flight to the destination of Longyearbyen for the Solfest celebrations, and return with wonderful memories.